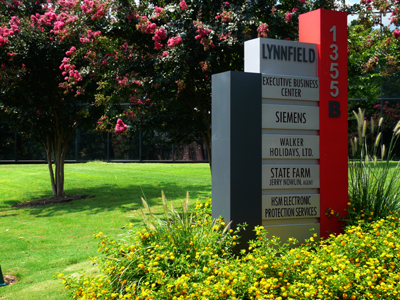 With our central Poplar/I-240 location, Executive Business Center is close to surburban areas, downtown, hotels and restaurants.
Drive Times

Memphis International Airport - 10 miles/15 minutes.
Dowtown Memphis - 16 miles/25 minutes.
Germantown - 6 miles/10 minutes.
Collierville - 13 miles/20 minutes.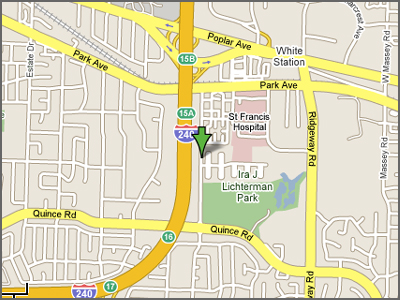 Hotels within 1 Mile
Hampton Inn and Suites Memphis - Shady Grove
Park Place Hotel Memphis
Embassy Suites Memphis
Hyatt Place Memphis Primacy Pkwy
Hilton Memphis
Homewood Suites Memphis East
Courtyard Memphis East/Park Avenue
Homestead Studio Suites Memphis/Poplar
Holiday Inn Select Memphis-East Poplar & I-240

Area Dining within 1 Mile
AMERIGO—Specializes in pasta and wood-fired pizzas; also serves steaks and cedarwood-roasted fish. 1239 Ridgeway, Park Place Mall. 761-4000.
BENIHANA OF TOKYO—Japanese steakhouse with sushi bar offers beef, chicken, and seafood items grilled at your table. 912 Ridge Lake Boulevard. 683-7390.
FRANK GRISANTI'S ITALIAN RESTAURANT—Northern Italian favorites include pasta with jumbo shrimp and mushrooms; also seafood, filet mignon, and daily lunch specials. Closed for lunch Sunday. Embassy Suites Hotel, 1022 Shady Grove. 761-9462.
MIKASA JAPAN—Seafood and traditional Japanese dishes include sukiyaki, shrimp tempura, and chicken teriyaki; sushi buffet also featured. Closed for lunch Saturday and Sunday. 6150 Poplar. 683-0000.
OWEN BRENNAN'S—New Orleans-style menu of beef, chicken, pasta, and seafood; jambalaya and crawfish étouffée are specialties; also Sunday brunch. Closed for dinner Sunday. The Regalia, 6150 Poplar. 761-0990.
P.F. CHANG'S CHINA BISTRO—Specialties are Mongolian beef and chicken in lettuce wraps; also vegetarian dishes, including spicy eggplant. Park at Ridgeway, Park Place Centre. 818-3889.
RIVER OAKS—Crabcakes are among the specialties at this restaurant serving French-American classics; also free-range/organic meats. Closed for lunch Saturday and Sunday. 5871 Poplar. 683-9305.
RUTH'S CHRIS STEAK HOUSE—Offers prime steaks cut and aged in-house, as well as lamb, chicken, and fresh seafood, including lobster. 6120 Poplar. 761-0055.
SALSA—Specialties include carnitas, chiles rellenos, and fajitas; also Southwestern seafood dishes such as tilapia with fresh pico de gallo. Closed Sunday. Regalia Shopping Center, 6150 Poplar. 683-6325.
WANG'S MANDARIN HOUSE—Offers Mandarin, Cantonese, Szechuan, and spicy Hunan entrées, as well as vegetarian and weight-watcher specials. Closed for lunch Saturday and Sunday. Park Place Mall. 763-0676.